---
Metadata and thumbnails are now available HERE for the enhanced Sample Maps section of this GIS Mapping Desktop.
(Thursday, May 8, 2003)
---
Asthma Hospital Admissions Trend Model, only available HERE.
(Wednesday, April 9, 2003)
---
This desktop contains several items that will help to detail the capabilities of our in-house Geographic Information System (GIS), the collaborative projects it has helped to expand with our partners, and how it assists us in further accomplishing our goals towards a "green and clean" Northern Manhattan, a 7.25 square mile backyard with nearly 627-thousand residents.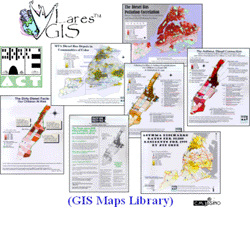 This index page is your initial introduction to the other sections ("Online Maps," "Sample Maps," and "Web Resources"). As you become comfortable with its design, you should use the quick access control bar that's integrated into the main header image at the top of each page in this section. Click on the button of the section you want to go to and your browser will load it properly. Below is a brief description of the available sections.

| | |
| --- | --- |
| Main Page: | This page! |
| Online Maps: | Working representation of quasi-active "hypermaps" that will help with providing you with information in a slightly interactive manner. |
| Sample Maps: | PDF versions of static (paper) maps that we have generated in the past and used to inform our constituents and ourselves. Unless otherwise specified, the majority of the map data are classified in quantiles. For further details on this, review the ArcView® GIS manual pages which are archived here as a PDF file. (ESRI, Inc., Copyright 1996, pages 103-109). |
| Web Resources: | An evolving list of external resources and website links to help connect you with other sources of information and static/interactive map archives. |
---
| | |
| --- | --- |
| | Temporal Information Systems (TIR): Live Data Trend Models |
While geography is the foundation for analysis in a Geographic Information System (GIS) that aids in the visualization of data with a spatial element, time plays the same role in a Temporal Information System (TIS). A TIS can greatly assist the data in a GIS, for example, their use in weather forecasting, but there are certain datasets that are best interpreted in a purely time sensitive environment. The data models below take advantage of the capabilities of a Temporal Information System in order to help you view how data volumes change through the small increments of time on a given day. Currently, these simple yet complex models incorporate a linear algorithm that analyze yearly sums to help predict their balanced daily values. (more...)

---



( P h o t o C a p t i o n )

On January 30, 1999, eight students working under the direction of Associate Professor Ann-Margaret Esnard as part of an Environmental Justice and GIS Workshop class with the Department of City and Regional Planning (CRP) at Cornell University in Ithaca, New York, met with WE ACT staff and several community leaders to "address the dire lack of useful environmental justice information accessible to communities in New York, New Jersey, and Puerto Rico." At the time the nascent GIS system setup in the WE ACT office was a mere four months old. Their collaboration helped to shape its development to where it stands today!

Besides developing a photo journal of environmental hazards in Northern Manhattan, a virtual "Toxic Tour" somewhat represented by this hyper map, they also developed an "Introduction to Outdoor Air Pollution" cookbook detailing toxins present in air pollution and their effects to human health, vegetation, and the build environment. Many of the elements from their curriculum were later shared through earlier sessions of our Environmental Health Leadership Trainings (EHLT) now known as our Environmental Health and Justice Leadership Trainings (EHJLT) program. The three-hour guided bus tour that participants of the trainings attend highlight the Northern Manhattan toxic sites and treasures originally mapped on virtual "Toxic Tour" and many additional ones as well.

We are currently working to incorporate this updated driving tour into a new virtual "Toxics and Treasures Tour of Northern Manhattan" for this website, as well as generate fold-out paper maps for individuals who want to navigate to the sites at their leisure. Please stay tuned for developments, or contact our Environmental Health Director if you would like to contribute in any way to future sessions of the EHJLT program or with ideas and photos for the revised online "Toxics and Treasures Tour."