Some of the Polluting Facilities in Northern Manhattan
Represented below are just a few of the environmental hazards placed in the neighborhoods and backyards of Manhattan residents. For the purpose of our organization, the area that we focus on is primarily north of ninety-sixth street. North of this demarcation line is the catchment area we refer to as Northern Manhattan. At the time of the 2000 U.S. Census, Northern Manhattan had 626,968 residents, mostly African-American and Latino of low to mid-income, living in a 7.25-square mile area divided up into 4 community boards (9, 10, 11, 12), 5 neighborhoods (East, Central, and West Harlem; Washington Heights; Inwood), and 13 ZIP codes (10025, 10026, 10027, 10029, 10030, 10031, 10032, 10033, 10034, 10035, 10037, 10039, 10040).
You may also select to view all facilities as a LIST.

For more information on an item, click on the item's ID number hotspot.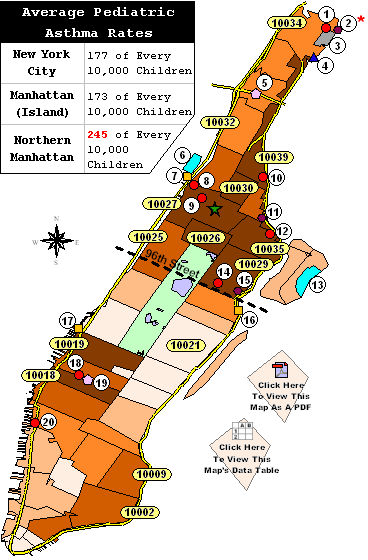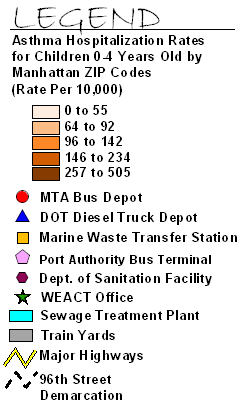 Source: New York City Department of Health (NYC DOH) Statewide Planning and Research Cooperative System (SPARCS) data on Asthma Admission Rates for children ages 0 to 4 years for 2000.
Map prepared by West Harlem Environmental Action, Inc. (WE ACT) with the Columbia Center for Children's Environmental Health (CCCEH), using ArcView® GIS v3.1.1 software from the Environmental Systems Research Institute, Inc. (ESRI). If you have any questions or concerns, please contact the WEACT GIS Mapping Specialist, Carlos M. Jusino, at (212) 961-1000, ext. 307.
Funded in Part by the former W. Alton Jones Foundation (now Blue Moon Fund) and the National Institute of Environmental Health Sciences.