Brownfields are abandoned, idled or under-used industrial and commercial facilities where expansion or redevelopment is complicated by real or perceived environmental contamination. For example, sites like vacant lots, former gas stations, or abandoned factories, manufacturing plants, and commercial buildings, could all qualify as brownfields sites. The Keeping Brownfields Clean Initiative seeks to clean up brownfields sites to reduce risk to surrounding communities as well as promote their redevelopment and beneficial reuse.
West Harlem Environmental Action (WE ACT) and the Natural Resources Defense Council (NRDC) believe that a rare opportunity now exists to meld together our unique organizational experiences to help advance the development of successful Brownfields projects that utilize pollution prevention technologies in Northern Manhattan communities.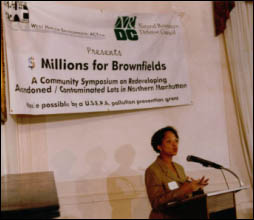 WE ACT and NRDC have received a grant to plan, implement and execute, the Keeping Brownfields Clean Initiative. The purpose of this 12-month initiative is to allow both the affected communities and the Northern Manhattan Empowerment Zone to play an integral role in defining appropriate Brownfields redevelopment projects in these communities, as well as a full exploration of the range of technologies and potential projects that would integrate pollution prevention into their redevelopment efforts.

This joint effort would seek to explore issues of site identification and appropriate remediation and developmental goals concerning cleanup standards, future land use, zoning and development objective which are compatible with the vision of the community and the mission of the Empowerment Zone. Most importantly this project would focus on pollution prevention objectives to ensure the long term sustainability of Brownfields redevelopment projects and the overall health and well being of potentially impacted communities in Northern Manhattan.
One of the main developments of this project thus far was the collective decision by the advisory board that our effort should focus on small lot redevelopment as opposed to major parcel redevelopment. We made this decision collectively and resolutely. It was our belief that developers will be attracted to the few large parcels available in Northern Manhattan for redevelopment project. However, we were especially concerned about the disposition of the smaller lots that dot the Northern Manhattan landscape and pose particular redevelopment challenges.